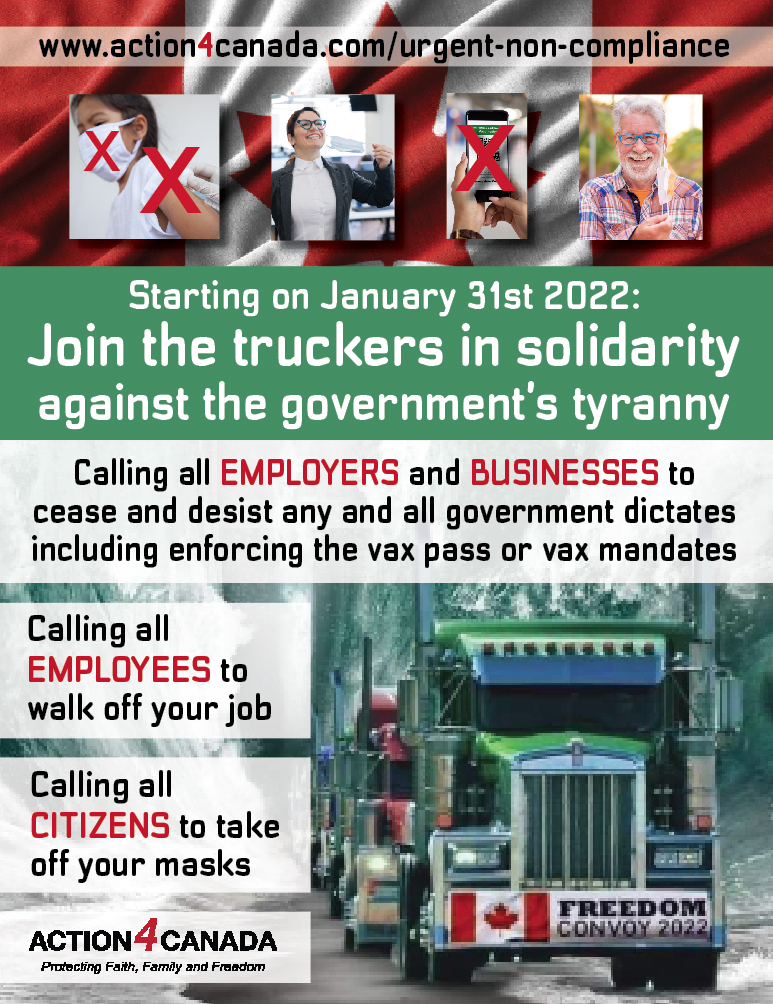 Since the onset of the COVID-19 FRAUD two years ago, Action4Canada has been on the front line advising Canadians that the government's measures are unlawful and urging citizens to not comply.
With the momentum of the Truck Convoy growing daily and the show of massive support nationwide now is the time for ALL workers, in every sector, to take a stand. This includes business owners, church leaders, municipal, provincial and federal workers, workers from the private sectors, volunteers…everyone needs to unite in solidarity to fight for a common goal…FREEDOM!
So many Canadians have lost their jobs over the illegal mandates demanding they get the jab, test, mask or provide their medical information. Enough is Enough!
On Monday January 31st Action4Canada is calling on all workers to walk off the job.
Teachers, city workers, transit workers, provincial and federal workers are all in a very powerful position to disrupt the government's agenda. We are also calling on healthcare workers but only if it does not put patient's care at risk.
We are calling on business owners and staff and church leaders to cease and desist enforcing vax passes and masks.
And, we are calling on ALL citizens, especially parents with children, to take OFF the mask!
Be sure to sign up and join Action4Canada's Workers Unite Group to receive the resources and support you need to stay lawfully open and employed!
None are more hopelessly enslaved than those who falsely believe they are free.
Johann Wolfgang von Goethe
Freedom of speech, thought, belief and the right to life, liberty and security of the person are guaranteed. We do not need to beg, barter or ask for them…they are ours for the taking.
Please consider becoming a monthly donor and help Action4Canada continue to bring solutions and hope to the nation!
God bless you and God bless Canada!
The Team @
Action4Canada