by Brian Shilhavy
Editor, Health Impact News
Yesterday we reported that with 1,517,211 injuries and 9,027 deaths following the Pfizer COVID-19 vaccines recorded in the U.S. Government's Vaccine Adverse Event Reporting System (VAERS), the FDA went ahead and gave it full approval anyway.
Today, we put some faces on some of these deaths and injuries following the Pfizer shots.
There seems to be some confusion over the FDA announcement yesterday, as I have had several people email and state that the FDA did not approve the Pfizer shots, but simply extended their emergency use authorization (EUA).
The FDA did approve the Pfizer/BioNTech shots, but they also apparently extended the EUA on existing doses of the shot. So now there are apparently two different "vaccines" produced by Pfizer/BioNTech, one under the EUA, and one approved by the FDA yesterday.
The name of the one that the FDA approved is "Comirnaty." You can read the FDA press release here.
A letter was sent by the FDA to Pfizer extending the EUA on existing doses, and you can read that letter here.
A letter was sent by the FDA to BioNTech approving the "Comirnaty vaccine," and you can read that letter here.
Confusing? You bet!
Many questions are yet unanswered, and we will continue to update this story as the information becomes available.
But it appears that the shots being used right now are all the EUA shots, even though both versions are supposed to be "identical."
Some of the questions at this point are:
If the approved product does not include 12 to 15-year-olds, why are they still injecting children that age with the EUA version? Is this just legal maneuvering so that Pfizer remains legally immune to injuries and deaths caused by their product?
Many people who have looked at what the FDA and Pfizer are doing in approving these shots claim that this is not legal.
And indeed, even the EUA given to Pfizer and the other pharmaceutical companies was not legal, as there are safe and effective treatments for those with COVID symptoms already on the market, making vaccines completely unnecessary.
 Woman in Saudi Arabia Suffers Horrible Skin Injuries after Pfizer Shot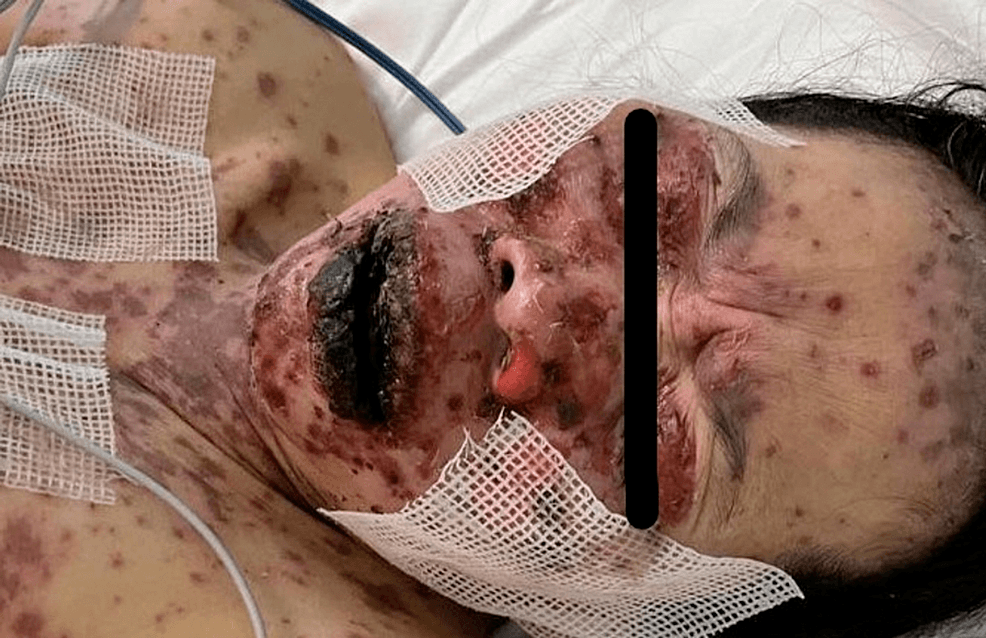 A peer-reviewed case study published in Saudi Arabia documents a woman who has suffered a very severe life-threatening skin reaction following a Pfizer COVID-19 injection. She was diagnosed with Stevens-Johnson syndrome/toxic epidermal necrolysis (SJS/TEN).
A 49-year-old woman with no previous medical history presented to the emergency room with a history of fever and skin eruption. She has received COVID-19 Pfizer (BNT162b1) vaccine with a dose of 0.3 mL given intramuscularly one week before the development of her symptoms.

The patient started to develop fever, fatigue, and headache followed by skin lesions affecting her trunk and starting to spread to her face and upper limbs with oral ulceration.

The patient was seen in the primary health care center and was given paracetamol and did not notice any improvement. The patient had no history of taking any new medication or any cosmetic treatment in the past two months before the development of the skin lesions.

Upon examination, the patient was vitally stable, anxious, and in severe pain. She had numerous purpuric and dusky red macules involving the chest (Figure 1), abdomen (Figure 2), upper limbs (Figure 3), face, genitalia, and upper thighs with areas showing coalescence of lesions with flaccid bullae and areas of epidermal detachment with positive Nikolsky's sign.

The mucosa was involved in her condition, where she had extensive oral ulceration and hemorrhagic crusting over the lips (Figure 4), as well as bilateral conjunctival congestions along with upper eyelids erosions (Figure 5) and genital mucosal lesions.

Her body surface area (BSA) involvement is estimated to be more than 30%. Laboratory evaluation showed low WBC (3.87 × 109/L) and elevated liver enzymes (aspartate aminotransferase [AST] 178 U/L, alanine aminotransferase [ALT] 90 U/L). Chest X-ray was normal, and she had negative serology for hepatitis B, C, and HIV.

The Severity-of-Illness Score for Toxic Epidermal Necrolysis (SCORTEN) score was two on the day of her admission since she was older than 40 and she had a serum bicarbonate level of less than <20 mmol/L.
Read the full study here.
Junbin Zeng, Husand and Father DEAD After Pfizer Shot

Junbin Zeng got both doses of the Pfizer shot, and ended up in the hospital with huge bills, so he put up a GoFundMe page to help with expenses.
My name is Zeng.  I was a chef from Bamboo.  In order to help end the pandemic, I did my part by accepting two doses of Pfizer vaccine.  After the second shot on June 6, I couldn't walk after 2 weeks, and was diagnosed with a very rare cancer called "boblet cell adenocarcinoma" after a little bit over a month.

From July 14 to July 26, 7 tumors grew in my brain, 1 in my right eye, and numerous in my body, organs, and vessels.  My hemoglobin dropped from 14 to 7.5.  My kidney completely failed.  Fluid filled my lungs.  UPenn recommended moving me to hospice care and announced the end of my life.

My beloved wife flew from Sichuan, China to accompany me on the final journey of my life.  I always thought I would take care of my wife until she is too old to walk.  I realized I would only leave her with bills, debts, and heartaches.  I appreciate the prayers from great friends and customers.  Please help my wife and I out with the medical bills, travel and living costs, and my possible funeral costs.  Your generosity is much appreciated.
Shortly after posting this, he died. His wife wrote:
My husband Zeng left the world just a couple of hours after we posted on GoFundMe. His heart forever stopped beating at 4:20am on August 19th.

I am thankful that I spent 3 days with him and I was by his side when he took the last breath in this world. My son in China and I are in deep sorrow and grief. My husband was the breadwinner in the family.

His absence is a huge loss for us, emotionally and financially. I need to take care of his funeral and bring his ashes back to China after proper documentation. I desperately need financial help to cover the medical bills, living and funeral costs. Prayer and donation are equally appreciated. (Source.)
WOMAN AT VACCINE MANDATE PROTEST SAYS PFIZER VACCINE MADE HER WHEELCHAIR BOUND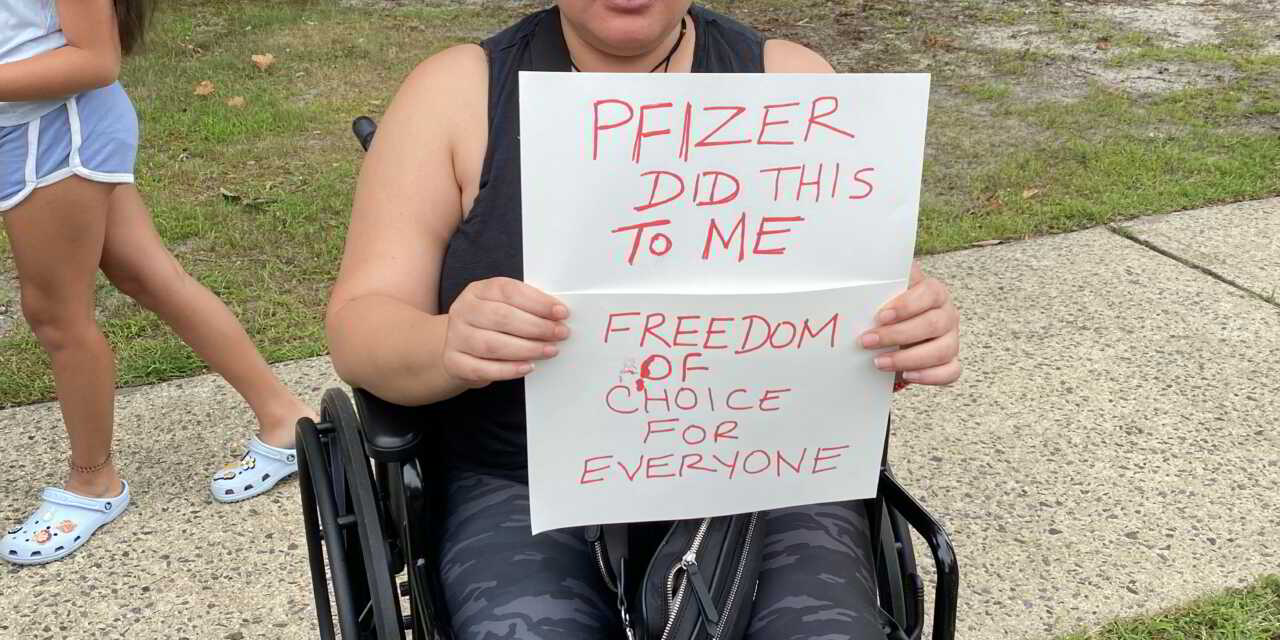 Mona Hasegawa a 41 year old lady has always been happy, smiling, and running around.
That's until recently on April 24, 2021 when she received the Pfizer vaccine to protect herself against Covid 19.
After she received the vaccine she had weakness.
"I was so weak I had to call 9-1-1 and go to the hospital. I couldn't walk." Said Hasegawa. "I went to the hospital and I don't remember much. The doctors told me that there's nothing wrong with me. That's until I found my doctor that I have now."
Hasegawa who didn't want to name her doctor stated that her doctor is currently being threatened to lose his license because he's blaming the Covid vaccine, treating Hasegawa with medications that are against the board currently.
The doctor is currently treating her with Hydroxychloroquine, and Ivermectin.
When asked if her treatment is getting better Hasegawa stated
"These treatments have helped a little bit." Hasegawa stated that "There's more people that are like me. Hundreds to thousands of people are having the same problems as me. You're not hearing about it."
Hasegawa said she went to today's protest because she fears for the hospital employees safety.
"If employees get sick like me, who's going to help us?"
Hasegawa has a go fund me set up for her medical expenses which are in excess of $200,000. The link can be found here: https://www.gofundme.com/f/55kf7c-help-mona-get-her-life-back
Here are some more stories about reactions to Pfizer shots from https://t.me/covid_vaccine_injuries.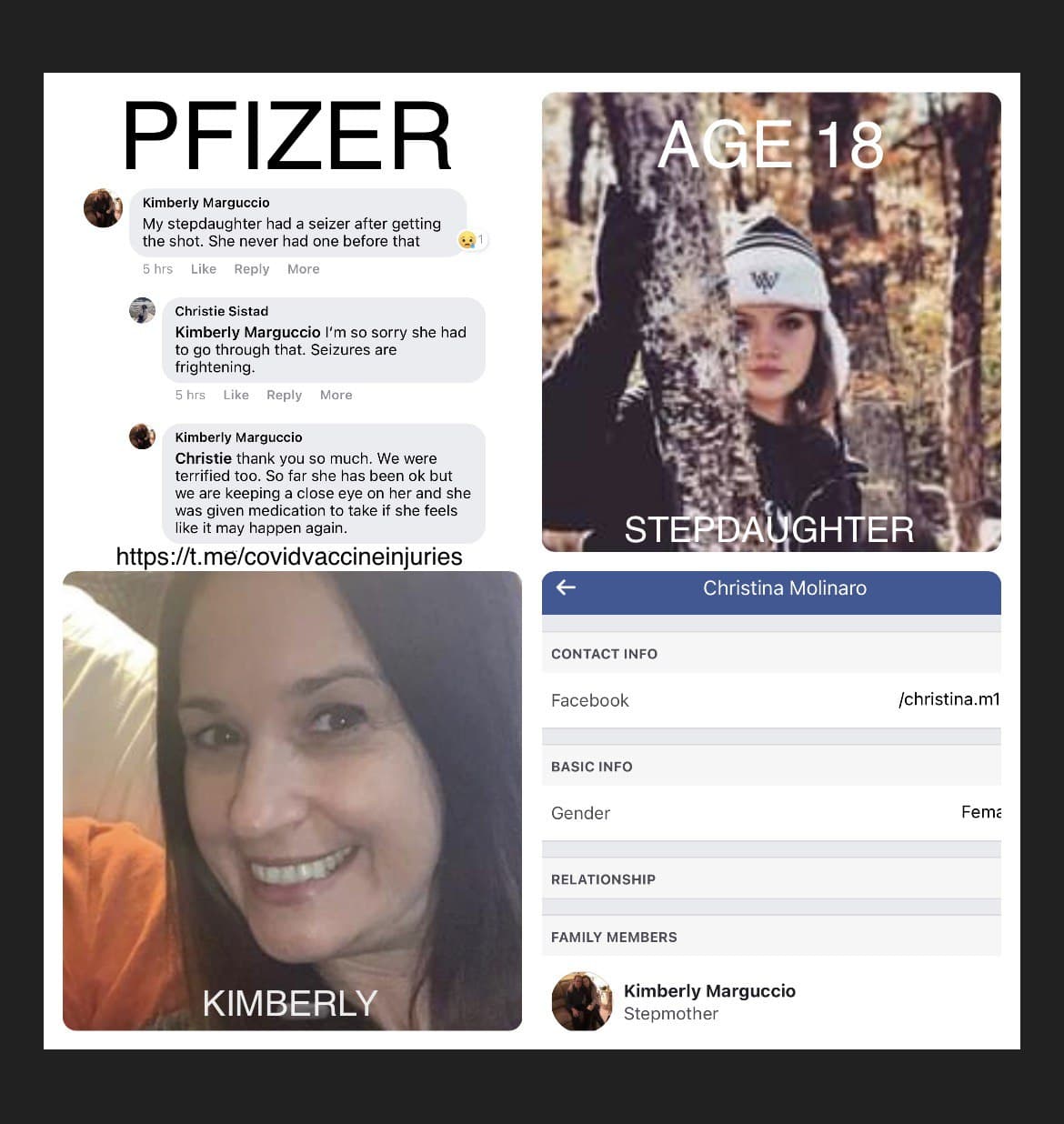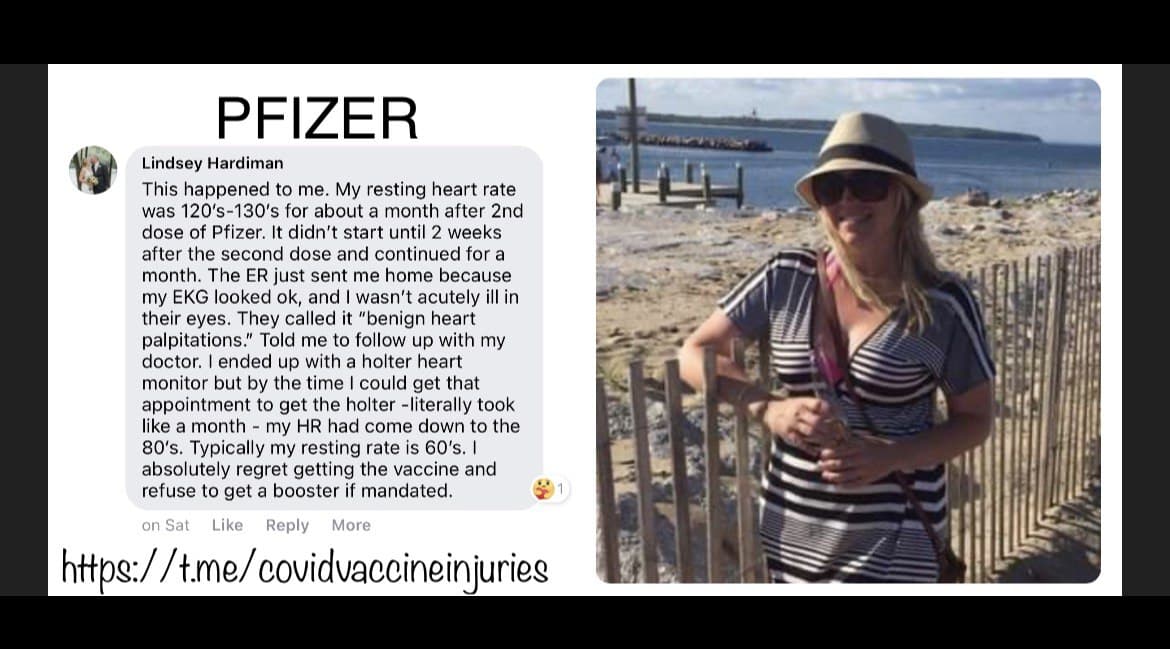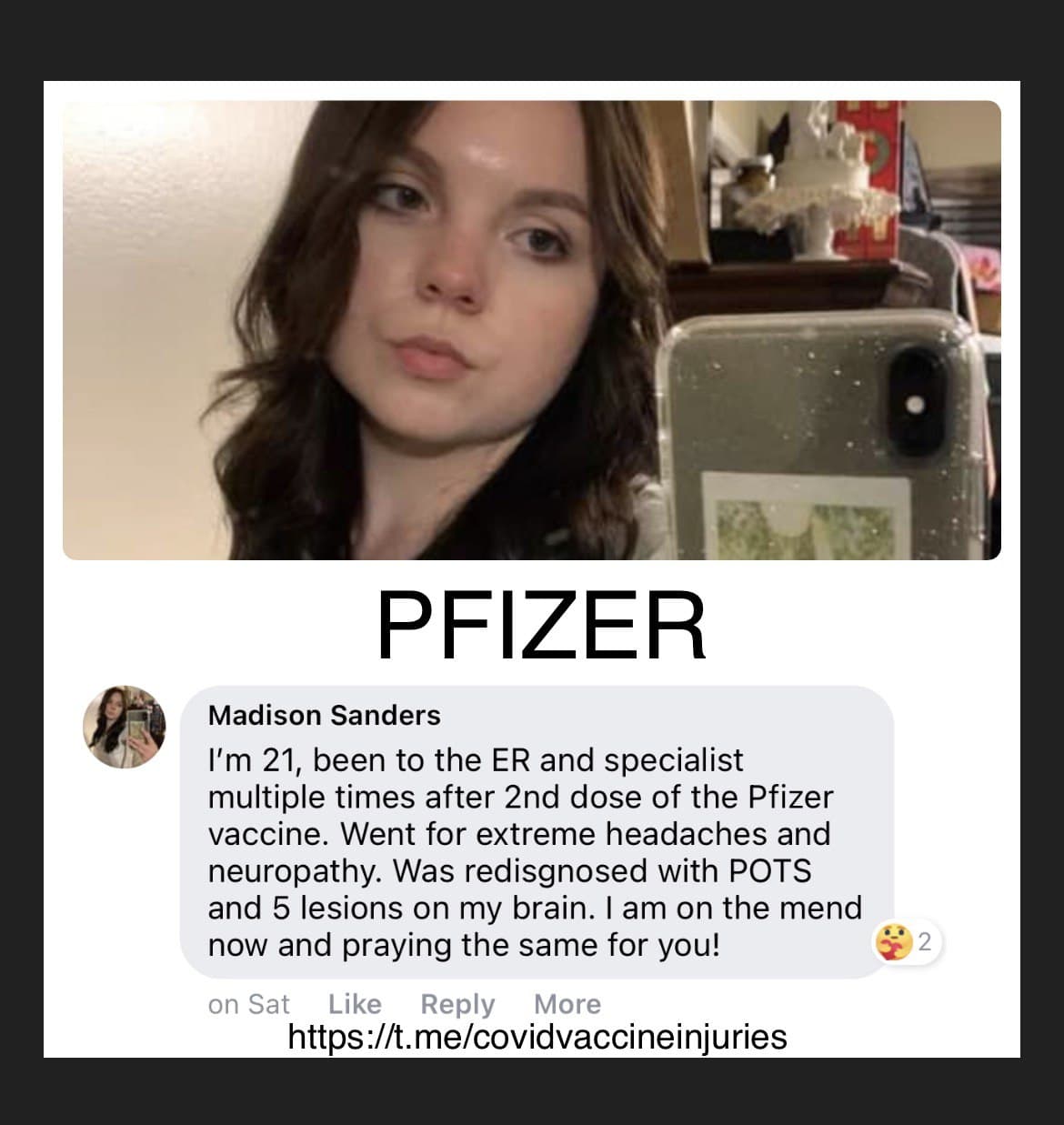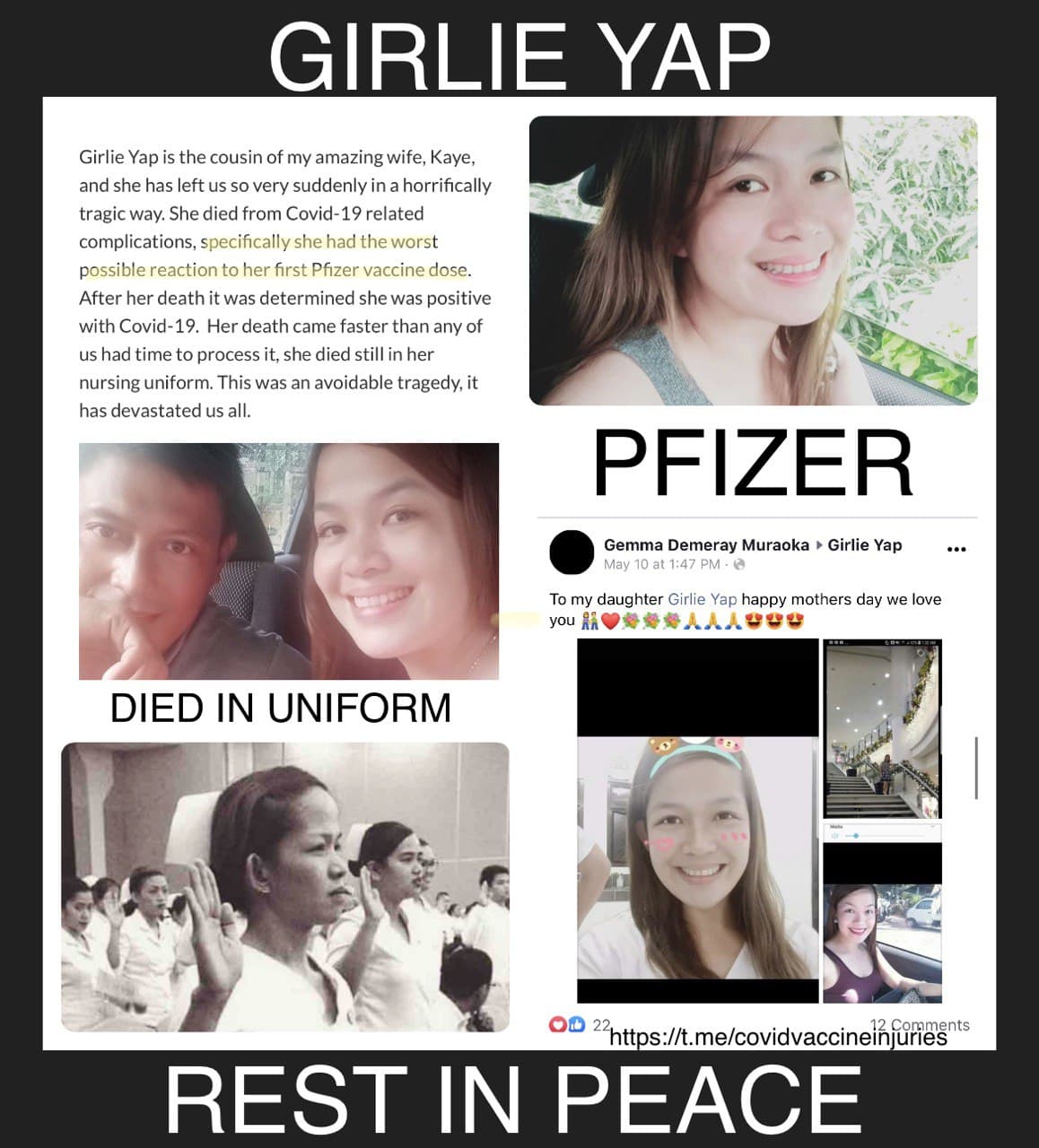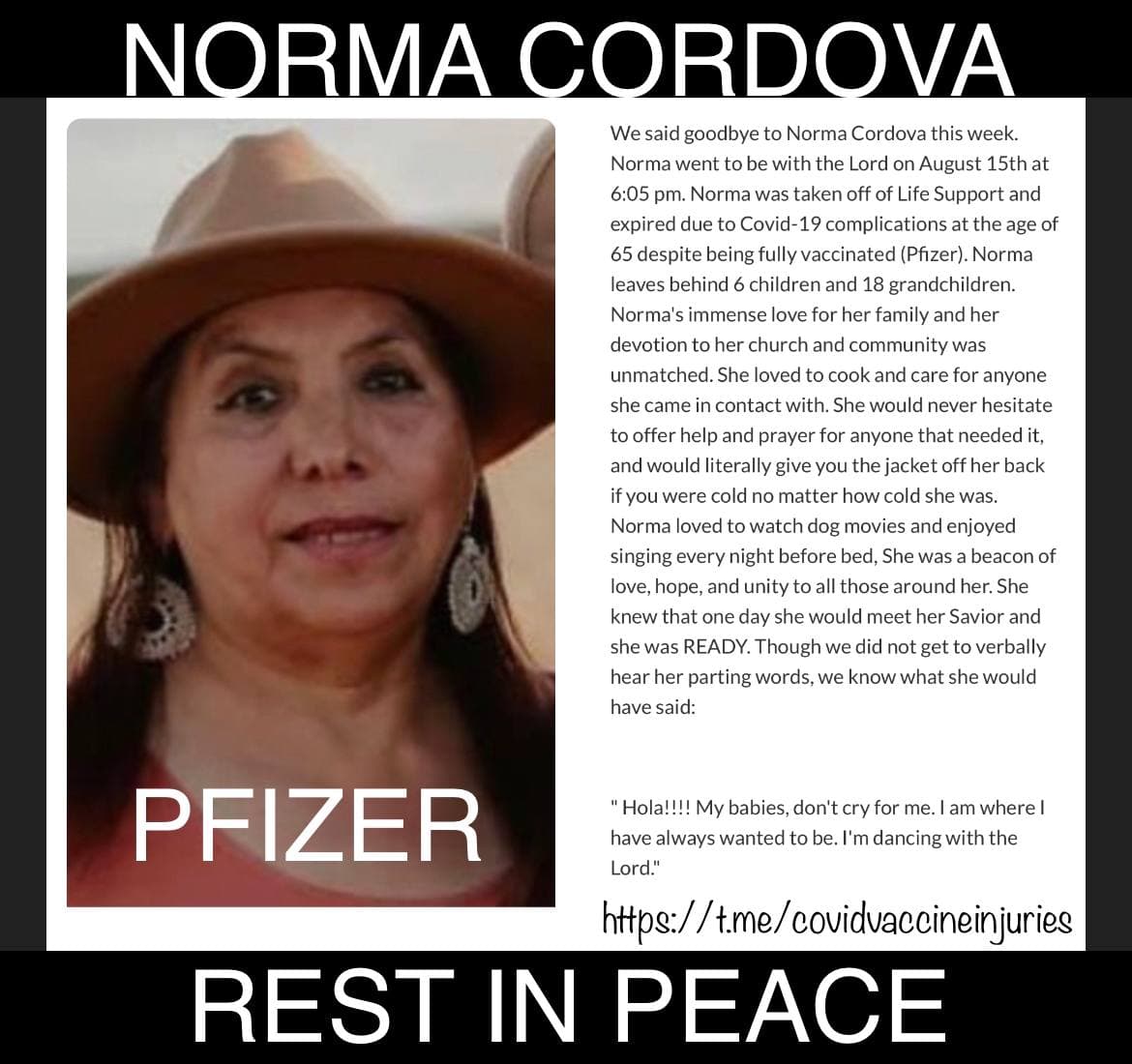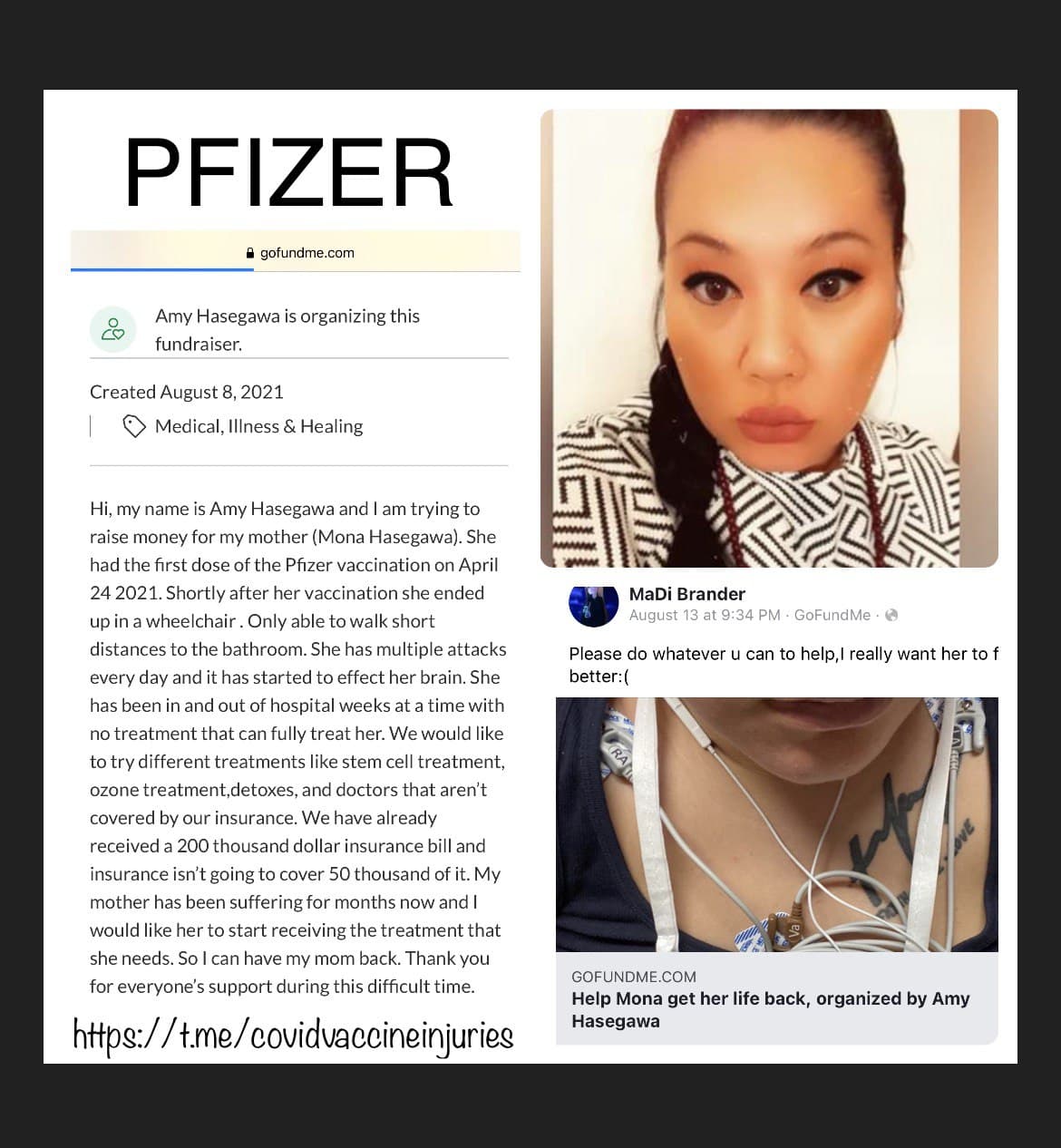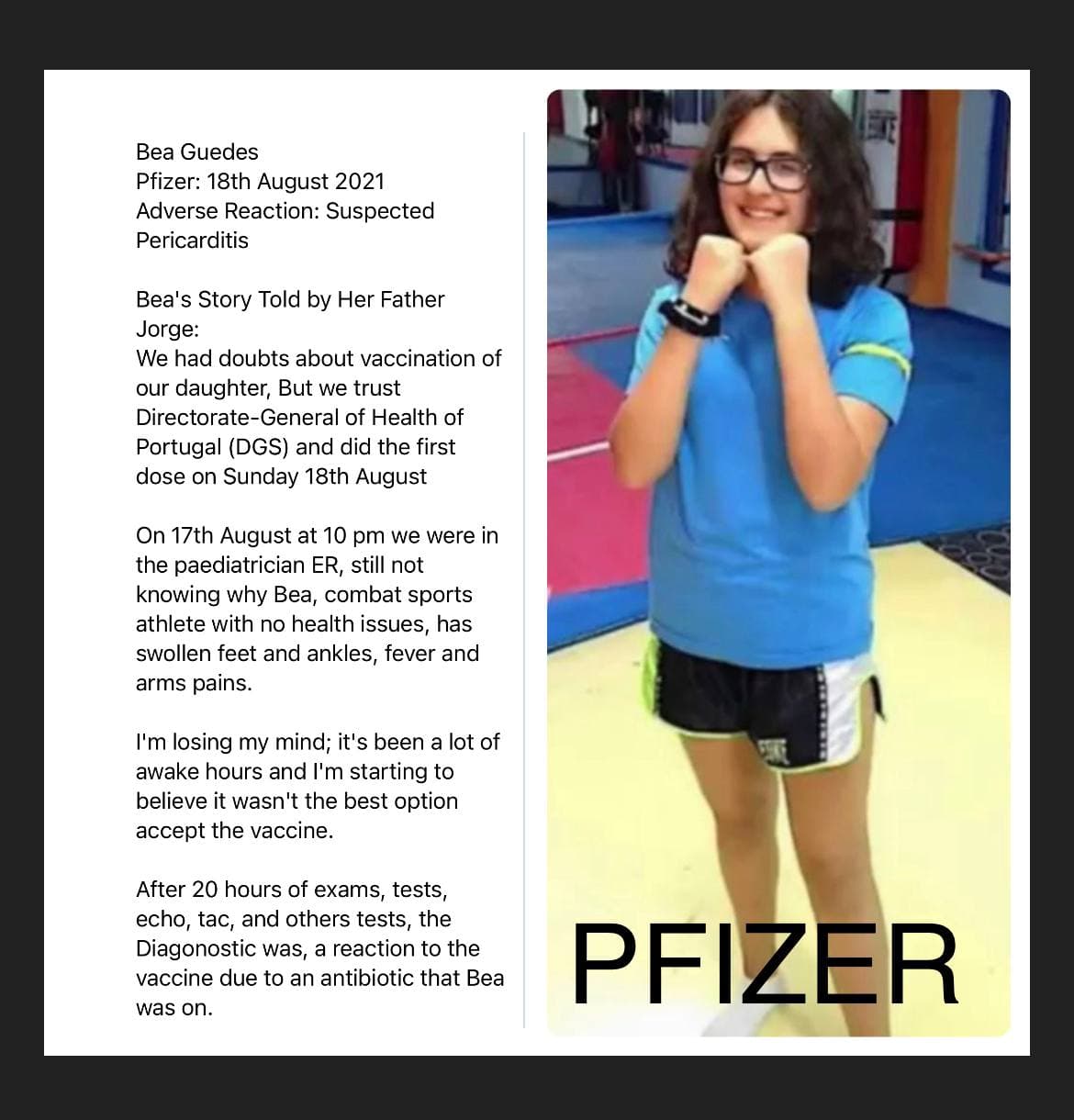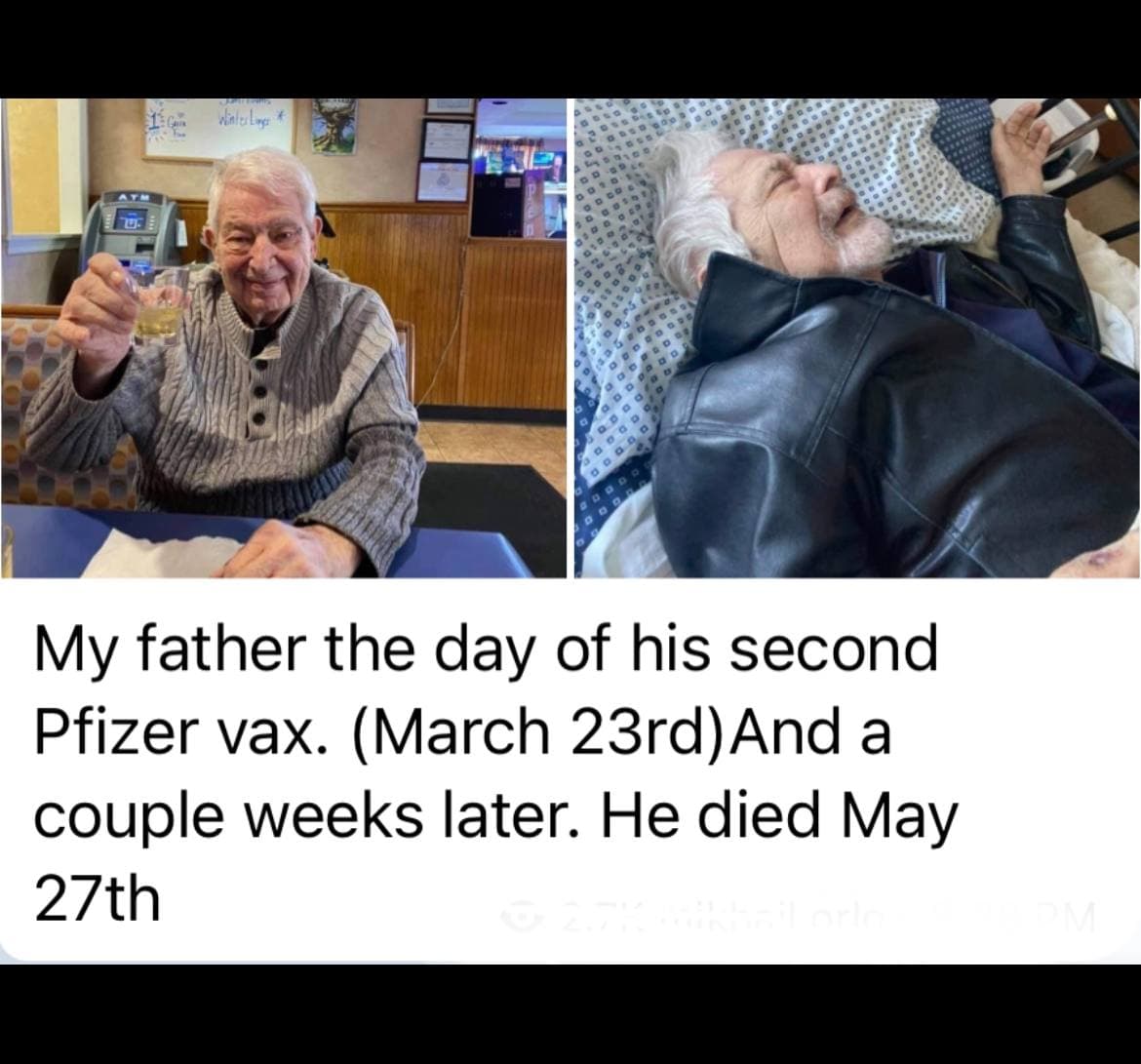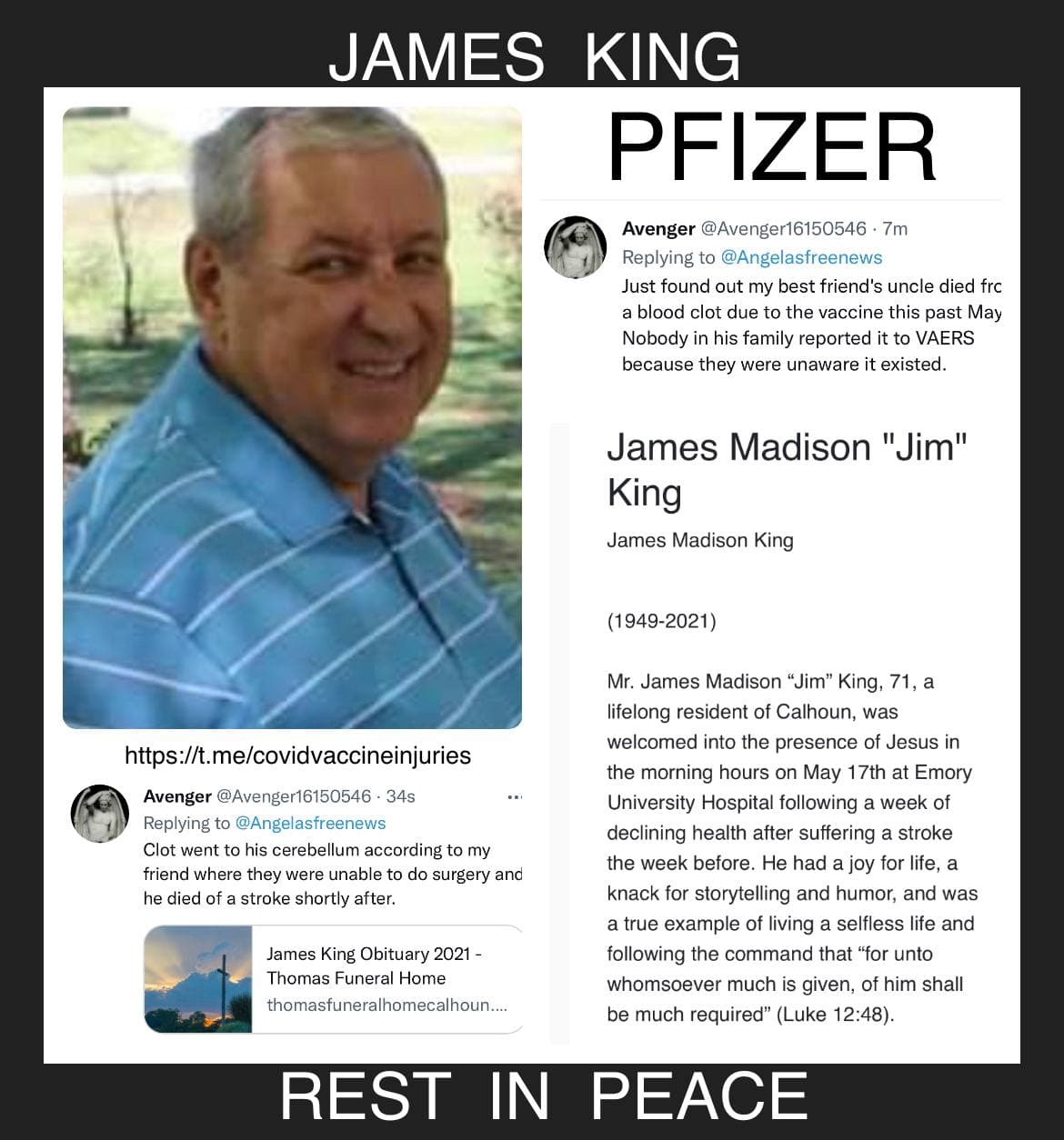 Here is a video report I have also put together with experiences of DEATH and serious injuries after the Pfizer shot, including a Rapper in New Zealand who mocked "anti-vaxxers" and those protesting lockdowns, but then died after the Pfizer shot.
This is from our Rumble channel, and it is also on our Bitchute channel.
Comment on this article at HealthImpactNews.com.
See Also:
COVID-19 Bioweapon Injection Casualties List