Comments by Brian Shilhavy
Editor, Health Impact News
The U.S. Navy announced this weekend that there would be a "safety pause" for certain aircraft following 3 recent crashes in Southern California where 6 service members died.
The Navy's aviation community will undergo a "safety pause" Monday in the wake of multiple fatal flight mishaps in less than two weeks.

During the pause, units will review risk-management practices and train "on threat and error-management processes," according to a Naval Air Forces statement.

"In order to maintain the readiness of our force, we must ensure the safety of our people remains one of our top priorities," the command statement said.

Deployed units will conduct the pause at the earliest possible time.

The pause comes amid at least three Navy and Marine Corps aircraft crashes in the past 10 days, two of which were fatal. (Source.)
I have read several reports from multiple sources regarding this "safety pause," and not one of them mentioned the vaccination status of the pilots, and there is no indication that the investigations will consider if any adverse reactions from the COVID-19 vaccines could have been involved.
The Navy currently has 97% of its service members vaccinated with COVID-19 vaccines. (Source.)
American Airlines pilot Captain Robert Snow, a pilot with over 31 years experience, made headlines recently when he went public with his story after going into cardiac arrest in the cockpit of the commercial plane he was flying just moments after landing in Dallas, avoiding what could have been a major catastrophe if he would have suffered his heart attack while landing.
His career is over now, as the FAA will not allow pilots with heart conditions like Mr. Snow now has to continue flying.
Mr. Snow went public to explain how this was most certainly a COVID vaccine adverse reaction, and his testimony was quickly removed from Google's YouTube.
Mr. Snow was mandated to receive the COVID vaccine as a condition for keeping his job.
Pilot Joshua Yoder, who is the co-founder of the U.S. Freedom Flyers, was interviewed by Steve Kirsch where he revealed that he was receiving many phone calls from other pilots in the commercial airline industry who are also suffering heart problems after receiving a COVID-19 mandatory vaccine, but they fear coming forward because they will lose their jobs. See:
US Naval Air Forces Orders "Safety Pause" For Aircraft After Deadly Southern California Crashes
The U.S. Naval Air Forces Public Affairs announced a one-day "safety pause" for non-deployed aircraft after a series of crashes in Southern California this month led to the deaths of a Navy pilot and five Marines.
"As a result of recent crashes involving U.S. Navy and Marine Corps aircraft, Commander, Naval Air Forces has directed all non-deployed Navy aviation units to conduct a safety pause on June 13 in order to review risk-management practices and conduct training on threat and error-management processes," the Naval Air Forces said Saturday in a press release. 
It noted that deployed aircraft would undergo safety pauses as soon as possible.
"In order to maintain the readiness of our force, we must ensure the safety of our people remains one of our top priorities," Commander Zachary Harrell, the Naval Air Forces public affairs officer, told the LA Times.
In the last ten days, lost aircraft include a Navy F/A-18E Super Hornet that crashed on June 3 in the Mojave Desert in San Bernardino County, killing the pilot.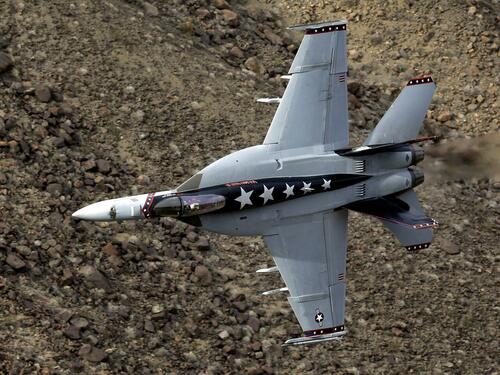 On Wednesday, a Marine Corps MV-22B Osprey aircraft crashed near Glamis, California, while on a routine training mission, killing all five Marines on board. The Marines said Saturday the crash is labeled as a "mishap."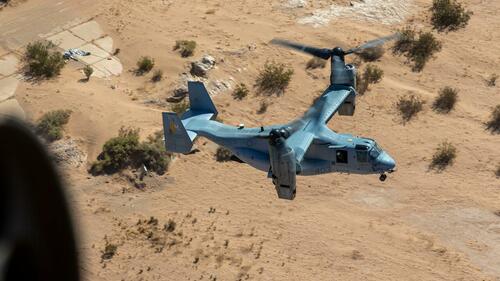 And on Thursday, a Navy MH-60S Seahawk helicopter crashed along the Arizona-California border near El Centro, California. All four of the helicopter's crew members survived with non-life-threatening injuries.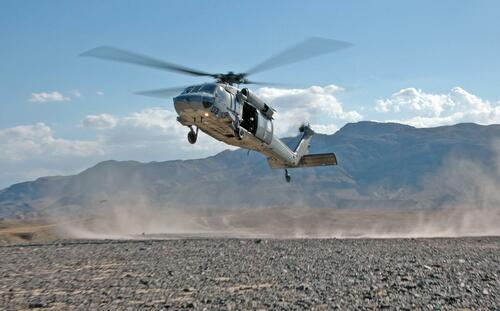 All three military aircraft crashed within one week of each other in Southern California.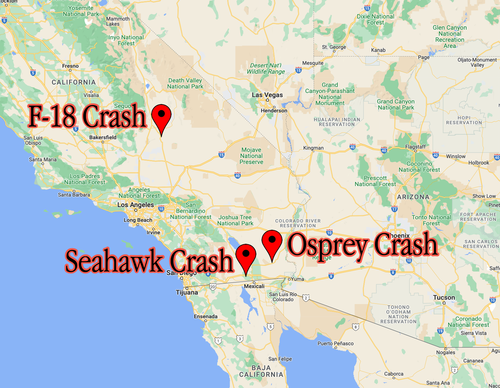 The string of crashes isn't a good look for the Naval Air Forces who are actively trying to recruit young Americans to join the service following the release of Tom Cruise's new patriotic film "Top Gun: Maverick."
Read the full article at Zerohedge News.
Comment on this article at HealthImpactNews.com.
See Also: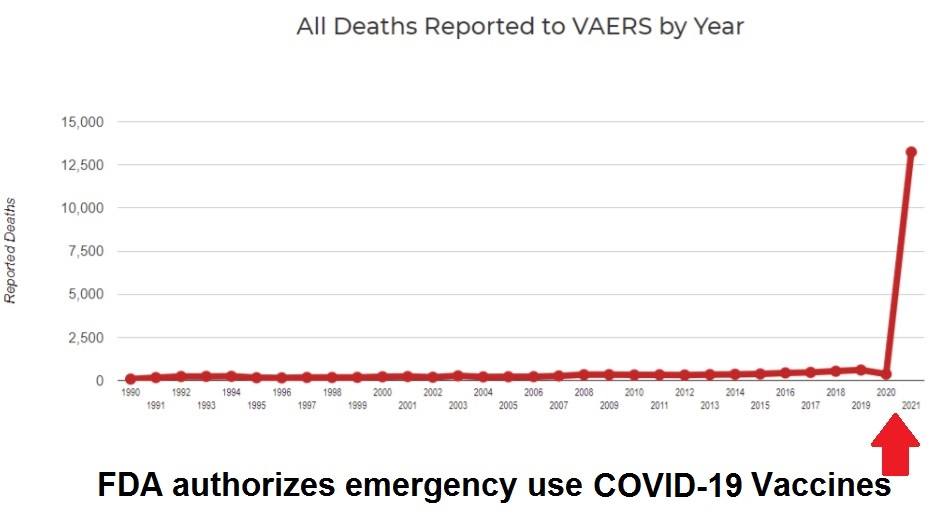 COVID-19 "Vaccine" Casualties List