Comments by Brian Shilhavy
Editor, Health Impact News
The U.S. Supreme Court handed down rulings today on the two COVID-19 vaccine mandates that were recently litigated in the nation's highest court.
They struck down the OSHA mandate requiring private businesses with more than 100 employees to force their employees to receive COVID-19 shots, but upheld the CMS COVID-19 vaccine mandate for healthcare workers.
While this is a victory for conservatives regarding the OSHA mandate, this court remains solidly pro-vaccine as the legal issue of injecting hundreds of millions of Americans with a deadly experimental "vaccine" that is drastically reducing the nation's population was never even considered.
Now more than ever, Americans need to support businesses that do not require COVID-19 vaccine mandates, while boycotting those that do.
Supreme Court blocks federal mandate for private workers to vaccinate or test
The justices dropped two rulings late Thursday: one that freezes the mandate for large businesses and another that green-lights enforcement against health care workers.
by KELSEY REICHMANN
Courthouse News Service
The Supreme Court gutted the Biden administration's pandemic-response strategy Thursday in a split decision that puts a vaccine-or-test mandate for large businesses on ice.
While no judge signed the decision granting a stay of the mandate from the Occupational Safety and Health Administration, Justices Clarence Thomas and Samuel Alito joined a concurring opinion from Justice Neil Gorsuch. Justice Stephen Breyer, Elena Kagan and Sonia Sotomayor took the rare step meanwhile of co-signing a dissent that labels Covid-19 "a menace in work settings."
They contend that OSHA did what Congress asked it to do. "In our view, the Court's order seriously misapplies the applicable legal standards," the dissent states. "And in so doing, it stymies the Federal Government's ability to counter the unparalleled threat that COVID–19 poses to our Nation's workers. Acting outside of its competence and without legal basis, the Court displaces the judgments of the Government officials given the responsibility to respond to workplace health emergencies."
The liberal justices said OSHA's mandate works to prevent workplace harm, and that the mandate is necessary to tackle the dangers during a pandemic where Covid-19 poses a grave danger to the public writ large.
Skewering the majority's focus on whether OSHA has power to address a disease outside the workplace, Breyer, Kagan and Sotomayor emphasized that there is no dispute that Covid-19 poses a grave danger and that a vaccination policy is necessary to safeguard against it. They argue that nothing in OSHA's charge from Congress supports the majority decision.
"That is what the majority today does — impose a limit found no place in the governing statute," the liberal justices wrote.
As the majority saw it, however, OSHA lacks the authority to impose the vaccine-or-test mandate. The ruling holds up the mandate as a "significant encroachment into the lives — and health — of a vast number of employees."
"Although Congress has indisputably given OSHA the power to regulate occupational dangers, it has not given that agency the power to regulate public health more broadly," the ruling states. "Requiring the vaccination of 84 million Americans, selected simply because they work for employers with more than 100 employees, certainly falls in the latter category."
Expressing his disappointment with the ruling for large businesses Thursday, President Joe Biden called on business leaders to enforce their own vaccine mandates.
"The Court has ruled that my administration cannot use the authority granted to it by Congress to require this measure, but that does not stop me from using my voice as President to advocate for employers to do the right thing to protect Americans' health and economy," Biden wrote. "I call on business leaders to immediately join those who have already stepped up — including one third of Fortune 100 companies — and institute vaccination requirements to protect their workers, customers, and communities."
For some experts, however, the prospect of different policies across the nation is an alarming one.
"As with so many employment-related Covid-19 laws, this would create a patchwork of differing and potentially conflicting rules across the states that will be difficult and burdensome for multistate employers to track and comply with," Michelle Strowhiro, a partner at McDermott Will & Emery, said via email ahead of Thursday's decision.
U.S. Solicitor General Elizabeth Prelogar framed the risk of contracting Covid-19 as a grave danger in arguments last week, but the high court and its conservative supermajority found this an insufficient basis to mandate workplace vaccines.
"Permitting OSHA to regulate the hazards of daily life — simply because most Americans have jobs and face those same risks while on the clock — would significantly expand OSHA's regulatory authority without clear congressional authorization," the ruling states.
The majority later contrasted vaccinations to fire or sanitation regulations, which can always be undone at the end of the workday.
"Imposing a vaccine mandate on 84 million Americans in response to a worldwide pandemic is simply not 'part of what the agency was built for,'" the ruling states.
OSHA's vaccine-or-test mandate began enforcement on Monday. Large companies were required to start tracking the vaccine statuses of their employees and require those who aren't yet inoculated to wear masks. The testing component of the mandate was not scheduled to begin enforcement until Feb. 9.
Along with a separate vaccination mandate for health care, President Joe Biden championed the policies as the key to bringing the country out of a pandemic that has killed over 800,000 Americans.
"I am disappointed that the Supreme Court has chosen to block common-sense life-saving requirements for employees at large businesses that were grounded squarely in both science and the law," Biden wrote Thursday. "This emergency standard allowed employers to require vaccinations or to permit workers to refuse to be vaccinated, so long as they were tested once a week and wore a mask at work: a very modest burden."
Business groups and Republican-led states quickly launched challenges to OSHA's mandate after it was announced in November. The rule drew so many challenges from across the country that a lottery system was triggered, sending the cases to the Sixth Circuit, where a three-judge panel ultimately saw no reason to delay the rule.
Thursday's decision comes less than a week after rare arguments on the fast-moving appeals.
At the more than three-hour session, Justice Gorsuch and fellow Trump appointee Brett Kavanaugh echoed Chief Justice John Roberts regarding a rarely used exception to an agency's authority to interpret its own statutes. The major questions doctrine limits an agency's authority when they make rules that go beyond their charge from Congress. The justices implied that Congress did not explicitly say OSHA could mandate vaccines to protect employees so the agency would have to go back to lawmakers to ask them for permission.
Arguments on OSHA's mandate were consolidated at the Friday hearing with separate challenges to another of the federal government's mandates, this one requiring Covid-19 vaccination for any health care worker whose employer receives federal funding.
The Supreme Court opted not to stay this mandate, writing in a separate decision that the rule does not exceed the authority of U.S. Health and Human Services. As in the OSHA case, the health care ruling is not signed. Justice Thomas and Alito each wrote dissents, joined by Gorsuch and Justice Amy Coney Barrett.
"The rule thus fits neatly within the language of the statute," the majority wrote. "After all, ensuring that providers take steps to avoid transmitting a dangerous virus to their patients is consistent with the fundamental principle of the medical profession: first, do no harm. It would be the 'very opposite of efficient and effective administration for a facility that is supposed to make people well to make them sick with COVID–19.'"
Facilities regulated by the Centers for Medicare and Medicaid Services are obligated to comply with conditions related to the safe and effective provision of health care, the justices emphasized. Another section of the ruling unravels the argument by the rule's challengers that the HHS secretary could not regulate more than accounting at facilities.
"The Secretary's role in administering Medicare and Medicaid goes far beyond that of a mere bookkeeper," the majority wrote.
While the vaccine mandate indisputably goes further than previous rules by HHS, the court notes that this is because the agency has never had to deal with a problem like Covid-19 before.
"The challenges posed by a global pandemic do not allow a federal agency to exercise power that Congress has not conferred upon it," the ruling states. "At the same time, such unprecedented circumstances provide no grounds for limiting the exercise of authorities the agency has long been recognized to have."
Thomas wrote in the first dissent to the majority that the government did not prove its statutory authority to issue the rule.
"The Government has not made a strong showing that this hodgepodge of provisions authorizes a nationwide vaccine mandate," Thomas wrote, joined by Alito, Gorsuch and Barrett.
They said if Congress would have specified if it wanted health agencies to mandate vaccines.
"If Congress had wanted to grant CMS authority to impose a nationwide vaccine mandate, and consequently alter the state-federal balance, it would have said so clearly," Thomas wrote. "It did not."
Gorsuch and Barrett also joined the separate dissent by Alito, as did Thomas, which calls the government's action unprecedented and its authority obscure. Alito attacks the government's use of an emergency order to take what he frames as belated action. He also accuses CMS of regulating first and listening later while attacking the power of the executive branch.
"Today's decision will ripple through administrative agencies' future decisionmaking," Alito wrote. "The Executive Branch already touches nearly every aspect of Americans' lives … Neither CMS nor the Court articulates a limiting principle for why, after an unexplained and unjustified delay, an agency can regulate first and listen later, and then put more than 10 million healthcare workers to the choice of their jobs or an irreversible medical treatment."
Unlike OSHA's rule, the mandate from the Department of Health and Human Services does not include a testing and masking component. The mandate also includes religious and medical exemptions, but challenges to it still left it on hold in 25 states thanks to rulings in Texas as well as the Fifth and Eighth Circuits.
With the rule now given Supreme Court force, all health care workers at federally funded facilities must have their first shot or submit their exemption request by Jan. 27 and have their second shot or exemption approval by Feb. 28.
At arguments last week, Roberts and Kavanaugh both appeared more amenable to supporting the HHS mandate because of the close association to public heath and because no hospital affected by the mandate was actually fighting the mandate.
States challenging the HHS mandate called the vaccine requirement unprecedented and said it would lead to worker shortages. The government shot back, however, that vaccines are routinely required for health care workers and that data shows most employees end up complying with mandates instead of losing their jobs.
In the OSHA mandate case, businesses and states opposed to it claimed the government was exploiting its workplace-safety agency to target an enemy that is not necessarily a workplace danger. The opponents also noted that the Postal Service and other government agencies couldn't even comply with the mandates that would pose steep monetary costs and result in worker shortages.
Breyer, Kagan and Sotomayor wrote Thursday that OSHA should have the authority to impose its mandate because it has the capabilities to evaluate the risks of Covid-19 and has responded appropriately to a public health crisis. The dissent blisters that such authority could be taken away by justices who are themselves accountable to no one and lack the expertise to make public health decisions.
"When we are wise, we know not to displace the judgments of experts, acting within the sphere Congress marked out and under Presidential control, to deal with emergency conditions," the liberal justices wrote. "Today, we are not wise. In the face of a still-raging pandemic, this Court tells the agency charged with protecting worker safety that it may not do so in all the workplaces needed. As disease and death continue to mount, this Court tells the agency that it cannot respond in the most effective way possible. Without legal basis, the Court usurps a decision that rightfully belongs to others."
Read the full article at Courthouse News Service.
Comment on this article at HealthImpactNews.com.
See Also: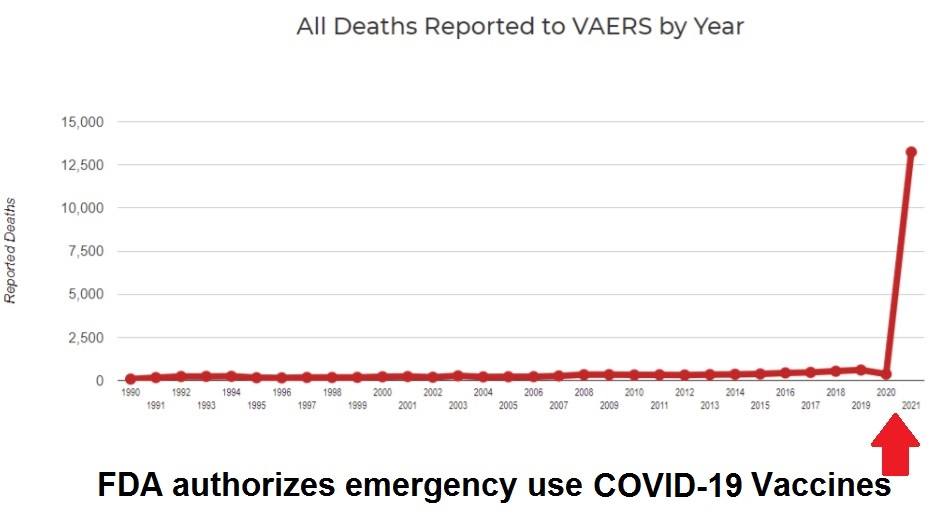 COVID-19 "Vaccine" Casualties List