by Brian Shilhavy
Editor, Health Impact News
Our most-read article last week, by far, was the article on Senator Ron Johnson's Roundtable discussion held in Washington D.C. where doctors, scientists, and COVID-19 vaccine injured victims met to discuss COVID-19 vaccine mandates.
The entire recording of this event is over 3.5 hours long, and so I have been watching it and breaking up the speakers into individual videos to make it easier to watch this truly historical event that happened at our nation's capital last week.
10 of these powerful presentations were published with that article last week, and you can watch them here: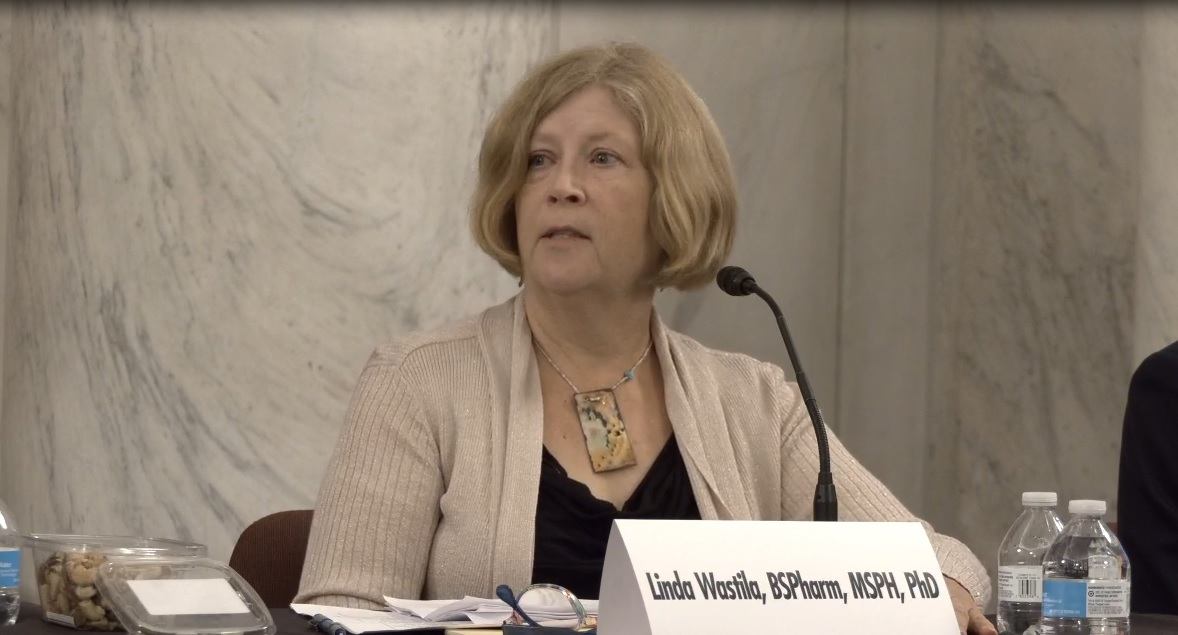 One of the most powerful presentations was given by Dr. Linda Wastila, who is a PhD professor and heads the Department of Pharmaceutical Health Services Research at the University of Maryland. (Source.)
In her initial presentation, which we published last week, Dr. Wastila stated:
We are citizens who have done our civic duty, but when we suffer serious adverse effects, we're left high and dry by the FDA, the CDC, the NIH and medical professionals.

We are scientists alarmed by the toxic environment in academia and scientific publishing.

We are military leaders concerned about vaccine safety in the armed services.

We are clinicians who want to treat patients harmed by the vaccines but whose practices are limited by our employers and professional boards.

And we are lawyers and patient advocates seeking help for our injured clients and their families.

We are the people you haven't heard from.

And we have nothing, absolutely nothing to personally gain from being here. Indeed, we have everything to lose, including our jobs, our titles, our livelihoods.

But we don't intend to go away until we see some real change.
Dr. Wastila later in the meeting gave another presentation about VAERS (Vaccine Adverse Event Reporting System) and the "science of vaccine safety."
Dr. Wastila is very critical of the CDC for using sound bytes with the public and stating that COVID-19 vaccines are "safe."
The statement that everyone by now has heard come out of the mouth of CDC Director Rochelle Walensky many times, and which is fraudulently printed on the CDC website, is:
Millions of people in the United States have received COVID-19 vaccines under the most intense safety monitoring in U.S. history.
Dr. Wastila states:
The impression is the system is so finely tuned that even the rarest needle in the haystack will be found.

I am afraid that is just not the case.
Now remember, the reason Senator Johnson invited Dr. Wastila is because drugs and drug safety is her area of expertise.
She states that the process to determine if there are problems that need to be addressed based on reported side effects in VAERS is a very slow process, and she uses myocarditis as an example.
It took four months into Israel's national vaccine campaign to recognize this side effect. That's besides the fact that myocarditis generally strikes within days of dosing, particularly the second dose.

So officials were experiencing this side effect for months before officials recognized the vaccine as the cause.

This delay in detecting, researching, and acknowledging side effects is normal.

And it is devastating.

The patients at this meeting today know that devastation first hand.

But it's also devastating because unless you first recognize harms soon after they occur, you can't use that knowledge in the next person about to get the vaccine.

I am stunned when I hear people dismiss myocarditis as an acceptable side effect, especially for young people.

Because myocarditis is life-threatening, and a life-disabling condition.
As I reported last week, the CDC admits that myocarditis is caused by COVID-19 vaccines, but they dismiss it as "rare."
This is what is currently published on the CDC website:
Myocarditis and pericarditis after COVID-19 vaccination are rare. As of October 27, 2021, VAERS has received 1,784 reports of myocarditis or pericarditis among people ages 30 and younger who received COVID-19 vaccine. Most cases have been reported after mRNA COVID-19 vaccination (Pfizer-BioNTech or Moderna), particularly in male adolescents and young adults. Through follow-up, including medical record reviews, CDC and FDA have confirmed 1,005 reports of myocarditis or pericarditis. CDC and its partners are investigating these reports to assess whether there is a relationship to COVID-19 vaccination.
Why are we continuing to inject children with these shots? Under what possible logic or ethics is 1,784 reports of myocarditis or pericarditis among people under the age of 30 acceptable?
There are far more reports of myocarditis or pericarditis following COVID-19 shots than following ALL vaccines for the past 30+ years recorded in VAERS.
And we know this is only a fraction of the actual cases because VAERS is under-reported, and many of these cases have already led to deaths.
The CDC and FDA have never conducted a study to determine what this under-reported factor is, but independent scientists have, and we have previously published the analysis conducted by Dr. Jessica Rose, who has determined that a conservative under-reported factor would be X41.
That would put the truer picture of young people suffering from myocarditis closer to 74,928 cases, and now they have just begun to inject 5 to 11 year olds.
Watch Dr. Linda Wastila's presentation. This is our Rumble and Bitchute channels.
Related:
Comment on this article at HealthImpactNews.com.
See Also:

COVID-19 "Vaccine" Casualties List