In the past 36 hours, my email has exploded with new information regarding massive troop and military hardware domestic deployment. There is a huge uptick in citizen reports regarding nefarious activities which relate to civilian internment inside of FEMA camps.
Pastor Williams Speaks Out
In an ominous email sent to both myself and my colleague, Paul Martin, Colorado talk show host, Randy Yarbrough, sent a summary of a communication he recently had with Pastor Lindsay Williams.
Guys,
Talked to Pastor Williams this morning.  He is concerned with: 1) currency reset sometime between now and the end of the year.  2) The town he lives in Fountain Hills, AZ. (EDITOR'S NOTE: FAR NORTHEASTERN SEMI-RURAL SUBURB OF PHOENIX) has a large number of retired military.  A general made the comment that many of them would not be in the city past Sept 1st.  No word on where they would go.  3) His elite friends have been urging him to leave the country or at the least have a "safe" place to go to.  4) He is not doing radio for the time being ,but said to stay in touch and he would call me if he had new info.
That's about it.
Randy Y

___
To conclude that something big is about to go down would be putting it mildly. Should we, as Pastor Williams intimates in the abovementioned communication, prepare to leave the country by Labor Day, is open for debate. However, for the first time, many of us are left wondering if there are safer places than America.
National Guard Civilian Internment Training At Mock FEMA Camp at Ft.Drum
In a training activity at Ft. Drum, approximately 60 soldiers from the 102nd Military Police Battalion's Headquarters Detachment practiced detaining American citizens in a simulated detention center. Should we be surprised? Training activities include biometric scanning of detainees, searching for contraband and dealing with unruly prisoners. The activity also consisted of constructing a makeshift detention facility from very sparse detention resources.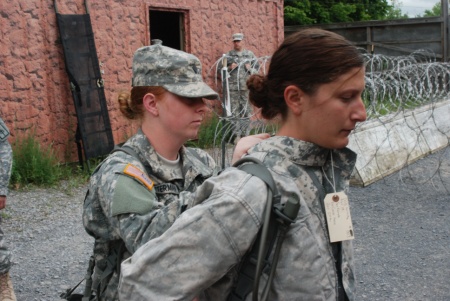 New FEMA Camp In Lima, Ohio
In Lima, Ohio, a FEMA detention camp has appeared almost over night. This was brought to my attention by Kristie Caton as she revealed the emergence of suspicious activities in her community in the following email.
Hi Dave,

I go to your website every day.  When I first heard about the FEMA camps I had to investigate especially since I heard there was one located in my home town of Lima Ohio. I have read articles about it being in one of the prisons (we currently have Lima Correctional Institute, closed, and Allen County Corrections). I know several people that work there.  In fact I did ask one employee if anything weird has happened there. This person stated (well trusted) that the state has put a new entrance to the closed state hospital that is located between both the prisons on same land. The state spent millions of dollars on the entrance alone. They also said that there was a crew working on the inside getting it in shape but the drills kept breaking supposedly so they stopped. (EDITOR'S NOTE: ARE WE TO BELIEVE THAT THE STATE OF OHIO SUSPENDED RETROFITTING OPERATION BECAUSE A FEW DRILL BITS BROKE?). My question is why all that money for a hospital that hasn't been open in decades and why give up???… But recently with the Jade Helm going on I decided to look up that area on a satellite image (which I have done several times in the past) to my surprise for the first time ever. The map showed Lima Clown College/FEMA Recruitment Center.  The only thing that surprised me was it actually showed up on the map. Of course I took a picture (attached) then I decided to look up the name on the internet (attached) it comes up with that name for Movie Theatre. Hum…….so then I decided to reserve lookup the phone number for that "movie theatre" because I didn't recognize the area code. It said Puerto Rico (attached)  just wanted to share my find because I know a lot of people have questioned where exactly the Lima FEMA camp is located. Im pretty sure this is the location of it. I will keep you updated as new things surface here. By the way I recently noticed that our Wal-Mart's now have cameras on the roofs and several on many of the light posts facing 4 directions.  I haven't seen any military around not even with a tank plant in our city either and I do know for a fact that military and civilians work there.